Day two of Sŵn Festival 2013, for us not quite as intense or exciting as day one, but still a great day/night of fantastic music. Here's the second of four daily blogs about our Sŵn experiences, it's The Debrief.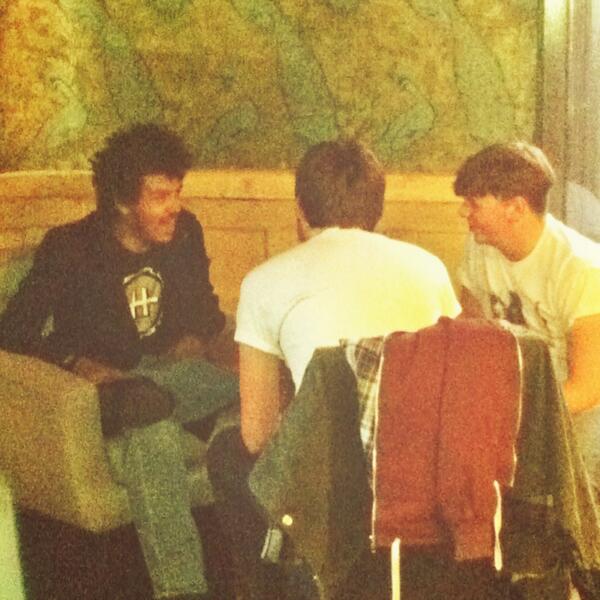 Our day started perhaps a little earlier than most people's, we met up with the guys at Quench Magazine on the top floor of the recently opened Urban Tap House. CUTV, Quench and Xpress Radio were all there, all looking very busy with interviews and live sessions with bands going on all day. Whilst waiting for Radkey to arrive, we managed to catch a bit of Palomino Party's live session and they sounded great. Definitely worth checking out tonight at O'Neill's. Then our interviewee arrived, we sat down with Isaiah, the bassist from Radkey, and chatted with him about a whole host of things. That interview will be in the November edition of Quench, so don't miss out.
Our night began properly at Four Bars, the tiny room upstairs absolutely rammed for Radkey. It was hot, it was sweaty and it was absolutely brilliant. Barely on stage for half an hour, the three brothers powered through their set with an incredible amount of force and vigour. For such a young band they come across as very fully formed. This is not a band discovering their sound, this is a band certain of what they know, what they want and how they're going to get it. Energetic and exciting, do not miss this band whilst you can still see them in tiny, cramped, sweaty venues.
Next, after seeing the size of the queue for Clwb Ifor Bach, we decided to see what was going on inside The Moon Club. We really were not prepared for what it had in store. Expecting to catch Hejira we were actually treated to the hypnotic soundscapes of Open Souls. Classical Indian music fused together with eclectic beatboxing and sparse drumming it's tough to describe in such a short space of time.
Our next stop on Friday night's agenda was Gwdihw, to catch the fantastic Iron Eye. Two saxophones, one
drummer and a whole host of tunes that are impossible not to dance to. As with Greta Isaac yesterday, Gwdihw is the perfect venue for this sort of artist. Small and intimate, it lends itself perfectly to the crowd who seem completely enamoured by the jazz stylings of Iron Eye.
Back out into the cold and rain in search of a chip butty and, with any luck, some music at Clwb Ifor Bach. We managed to secure the former without much trouble however the latter required significantly more effort. But after cold, rain and about forty minutes of queuing we made it inside for our last band of the night Drenge. 
The Drenge lads fired up, producing walls of energetic sound rebounding against the ear drums of the weary and, in many cases, slightly damp audience. Yet in spite of this Drenge still made a great night of it as they brought the band portion of day to a close, making way in the early hours of the morning for Jen Long to do her stuff with the discs.
Get yourself over to Sŵn's homepage to find a full line up and information on the festival, you could also check Sŵn out on Twitter (@swnfestival) or Facebook for more.
As always, thanks for reading On The Beat. If you enjoyed this article please share it on Facebook or Twitter or Myspace or Bebo or MSN Messenger. Whatever floats your boat. We'd also like to hear your thoughts, how was your Friday at Swn? Who did you see? Who was the best? Any unexpected surprises? Let us know in the comment section below or via Facebook or Twitter.